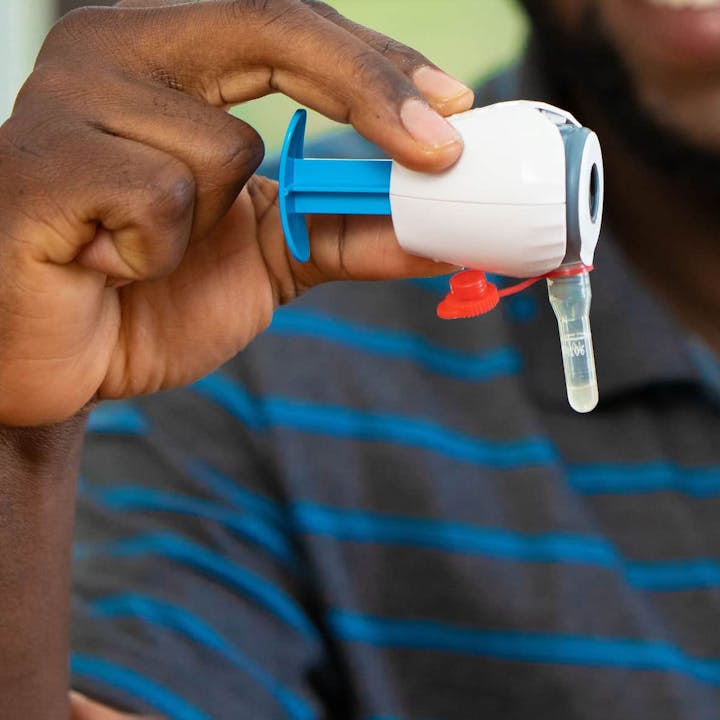 Bradley Bamford
At-home blood testing: A new standard for blood collection
A modern solution that makes blood collection accessible, simple and easy.
Injections and blood draws are among the most common medical procedures within healthcare. The fear of needles, also known as trypanophobia, is incredibly common in children; however did you know that 1 in 10 adults also have a needle phobia?
It is entirely natural to have an aversion to pain, even when you know it's coming and even though it's for a good reason. However, having such a phobia can result in people avoiding preventative tests, treatments & vaccines, which can be risky to their health both in the short and long term. 
The importance of blood tests
Blood tests are a great way to get a snapshot of your current health status. They can provide a considerable amount of information about your physical well-being, as well as help you to understand how your body changes over time. Understanding your blood biomarkers will help you to make more informed decisions about your diet, lifestyle, fitness, and supplement choices. They can also help catch potential health problems early, before they rise to the surface - allowing you to manage deficiencies or underlying conditions most effectively.
Some of the most common and beneficial blood tests are:
Vitamin tests
Liver function
Lipid profile 
Renal profile
Diabetes test
PSA test (for prostate cancer)
Early CDT (for lung disease)
Fertility testing
Hormone tests (such as thyroid function or female and male sex hormones)
Typically, these blood tests will be completed through venipuncture, extracting blood from a vein in the arm using a hypodermic needle or alternatively via finger-prick, where the skin is pierced with a sterile lancet. Traditional methods of blood collection through venipuncture usually require a visit to a clinic, lab, or a healthcare professional. And whilst finger-prick can be a self-test and are much more accessible, it's widely accepted that they're unpleasant and messy, and can have up to a 10-15% sample failure rate.
Innovative at-home blood collection
Say goodbye to messy finger-pricks and intrusive venipuncture blood collection. Using microneedles thinner than an eyelash, the groundbreaking TAP® II device makes blood collection painlessly simple - eliminating the barriers of collecting blood. You really won't feel a thing! 
Your sample is taken from capillary blood on your upper arm, making the process simple, mess-free, and, more importantly, pain-free - and all done within just a few minutes.
We know that some people may be anxious about completing blood tests at home by themselves. In each Qured plan, first-time users will be guided through each step of the blood collection process by one of our Health Advisors via a secure video call. 
Video call supervision will be optional if you've tested with a health advisor before. However, an instruction leaflet on how to use the blood collection device will be provided in your test kit regardless.
Whatever the case may be, we want you to feel confident, prepared and safe when taking your test. 
What happens after you've collected your blood?
After completing your test, you'll then send your sample to our labs as soon as possible via your local Royal Mail post box or post office to ensure accurate results. 
We provide accurate, reliable test results that are broken down into simple, digestible information in the Qured app. We know results can be tricky to interpret. Delivering your health insights in plain English, our clinicians make reading and understanding your test results easy. Via a video consultation, one of our clinicians will explain your results in detail, answer any questions you have, and provide advice on how to improve your health and wellbeing. Once you've had your appointment, you'll be able to access your results in your Qured app at any time. 
If we spot anything that needs more investigation, we'll set up a referral to your private medical insurance provider or NHS GP.
Qured is on a mission to power better lives through personalised, proactive healthcare through cutting-edge, innovative technology and clinician-led support every step of the way.
Learn about preventative healthcare
Join our mailing list and discover more about how you can improve the health of your employees with curated healthcare content covering topics like Fertility, Cancer, Wellness and the Menopause.
Thanks
Thanks for signing up to our newsletter.