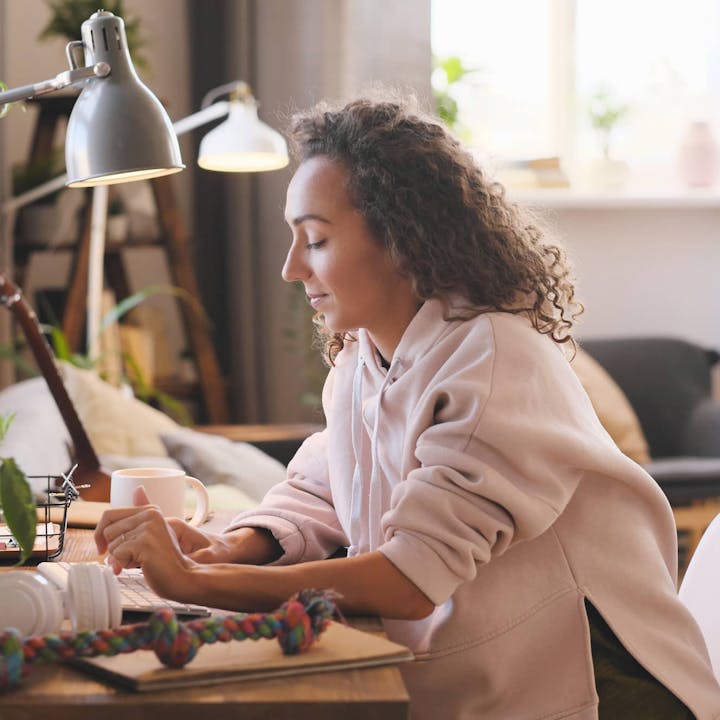 Libby Williams
Positive habits your workforce should adopt in 2023
Boost productivity, performance and happiness in the workplace
There's no better time than the New Year to assess your team's ways of working and encourage positive habits to help support them in the workplace.
Although the Covid-19 pandemic may be in the rearview mirror, how it's changed the way we work and the negative impact it's had on employees' mental and physical health is still very much an issue within modern workforces. With burnout and presenteeism still critical issues for so many, it's more important than ever to invest in the health and wellbeing of your team in order to retain and attract the best talent. 
Procrastination, multitasking and stress are also key factors cited by employees as affecting their ability to work effectively. Discover some of the best workplace habits to take on in 2023 to better support your people. 
1. Promote single-tasking over multitasking
In the majority of cases, any one employee will be working on multiple tasks all at once, often with tight and potentially overlapping deadlines. While multitasking is often seen as an important skill in order to fulfil business needs, it can divide attention and ultimately lower efficiency and work accuracy. Multitasking can also be especially difficult to avoid for those working from home, as tasks like laundry, life-admin and childcare can provide additional distractions. 
Also known as mono-tasking, single-tasking is a way of working where focus is dedicated to only one task, either for an allotted period of time or until it's completed. Encouraging your team members to take a step back and get into the habit of embracing single-tasking may help them be more effective in successfully completing work tasks to a high level while still meeting their deadlines. 
Although this way of working might seem too simple to be effective, it's been found to help reduce distraction, maintain lower energy consumption rates, and boost productivity, both when working from home and in office settings.
2. Encourage regular social communication 
With most teams continuing to work in a flexible hybrid fashion, there are still many opportunities for poor communication and a lack of social connection to develop. As well as breeding frustration within teams, this can also allow feelings of loneliness and segregation to develop which can lead to decreased satisfaction and lower productivity levels.
A simple way you may be able to combat this is by setting up routine coffee meetings every other morning, gathering those in the office to spend time on a video call to get to know their colleagues who are working from home.
Allowing your teams to get together at regular intervals in this way can help encourage healthy professional and personal bonds, ultimately leading to more open communication and collaborative work.  
3. Support a good desk set-up 
During the workday, it's all too easy for employees to allow hours to pass without getting up from their chairs, resulting in bad posture and niggling aches and pains. As a result, back pain is the largest reported reason for sickness absence in the UK. In addition, sedentary work lifestyles can be worsened when working at home, with sitting on sofas, bar stools and other unsupportive chairs being all too common. 
Not only can having a suitable working environment and desk set up can help improve physical comfort and therefore reduce absences, but it can also help boost mental focus and productivity. So, whether a team member's workplace is at home or in the company office, it makes sense to help them set up a suitable workspace. Offering a monetary benefit dedicated to office set-up can allow your people to personalise their space in a way that helps them feel more comfortable and engaged.
Ergonomics chairs, standing desks, laptop stands and extra monitors are just a few things individuals may find helpful in boosting their productivity. If your budget is stretched, setting up a borrowing system can help employees create a suitable workstation at home using the company's existing office furniture and tech.
4. Build mental resilience
Resilience in the workplace is an employee's ability to successfully manage and cope with challenges and change and bounce back from difficult periods. Helping your team members build resilience can help them reduce stress levels and flourish professionally, building strong working relationships, meeting deadlines and producing top-quality work. 
Mindfulness and resilience programmes are an impactful resource you can arm your teams with to help them reduce their stress levels. Offering employee assistance programmes (EAP) can also help team members access mental health support and advice on coping strategies as and when they need it.
Although it's important to help your team build resilience, remind team members that they're not expected to adapt and cope with everything they experience in their role, and should reach out to managers any time they need help and support.
5. Invest in preventative healthcare
On average a UK employee will spend almost 2 weeks at work while ill every year, costing employers more than £4000. Not only is presenteeism bad for the purse, but it also reduces engagement and productivity throughout the wider team.
Investing in and promoting better physical health can help keep your team members healthy, improving your presenteeism rates. Directly asking your people which tools or offerings would have the biggest impact in protecting and improving their health can help you effectively assess your current health benefits and improve your overall approach to wellbeing. 
How can Qured help your people and your business?
At Qured, we're empowering people to take control of their health with a first-of-its-kind smart healthcare benefit. Our personalised pain-free testing plans are designed to keep your people healthy, instead of treating them when they're ill. 
Taking a deep dive into the most important aspect of health, from vitamin levels and organ function to fertility assessment and cancer screening, Qured helps individuals identify areas of their health that need more care and attention so they can take preventative action and lead a longer healthier life. 
What's more, our team of health advisors and clinicians are on hand to provide support and guidance from at-home testing through to results, all via secure video, so individuals feel confident at every step of their Qured journey. 
Discover what Qured can do for your business
We've delivered innovative healthcare benefits to 400 leading businesses, supporting a million customers. Find out what we can do for your people.