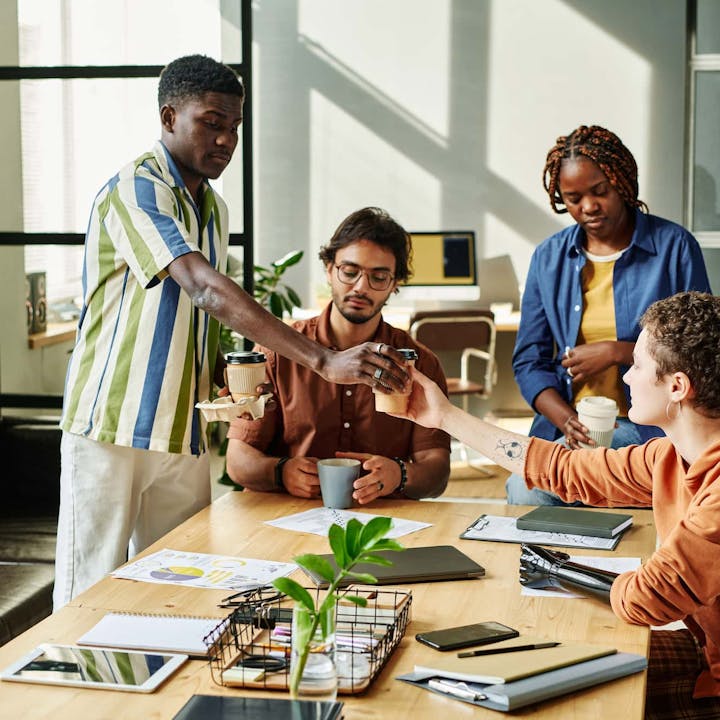 Libby Williams
5 ways to supercharge your employee wellbeing programme
Your Wellbeing Programme: How to Attract and Retain Talent
Any great business needs great employees. Here are some of the best ways to improve the health of your team, which long-term will help you to retain and attract great employees.
Good health is good for business, and we know that it's the people that make a company tick. Supporting the health and wellbeing of your people not only shows them how much you care but also helps you increase team productivity and reduce absences due to illness.  
What's more, while the war for talent goes on, retention is more important than ever. The average employee turnover rate in the UK is approximately 15% a year, with 40% of workers saying they would leave their job for better health benefits.
Every time a team member leaves your organisation, you have to spend time and money filling their position. Investing in truly impactful health and wellbeing benefits for your team not only helps you attract and retain the best talent out there but helps you save time and money too.
We've scoured the web for statistics and advice supplied by leading bodies to bring you 5 of the most impactful steps you can take to help optimise your wellbeing programme. 
1. Promote a healthy diet
Come 3pm, cravings for biscuits and fizzy drinks are almost impossible to deny. But as an employer, you have the power to help your team make healthier choices that have a positive impact on their health.
Some simple things you can do to encourage healthy eating and snacking at work are:
Providing a clean, well-maintained fridge where employees can store homemade lunches
Placing bowls of fruit in common areas and meeting rooms to encourage healthier snacking during afternoon slumps
Offering free healthy lunches bi-weekly, once a month or for large team meetings
Replacing sugary drinks in your office fridge with healthier options such as sugar-free flavoured waters, sparkling water, milk and milk alternatives etc.
If you're lucky enough to have in-house catering, consider subsidising the healthier food and drink options
2. Encourage physical exercise
Whether your team are working from home, or from the office, it can be all too easy to sit hunched over in one position all day long. 
Sitting for prolonged periods is considered by many experts to be the new smoking in terms of its effect on cancer with it increasing the risk of individuals developing certain types including lung, uterine, and colon cancers.
Research has also highlighted the impact of a more sedentary lifestyle with long periods of sitting on specific diseases and death including: 
112% increase in diabetes risk
147% increase in cardiovascular events, such as heart attacks and strokes
90% increase in death from cardiovascular events
49% increase in death from any cause
Encouraging your team to move regularly throughout the day will not only help prevent their risk of chronic diseases and death but can also help reduce back pain, increase energy levels and boost mood and focus leading to an overall uptick in productivity.
So, helping your team to move more during the day really is a no-brainer – here are some tips on how to do it: 
Suggest walking meetings – once around the block anyone?
Set up and fund an employee sports team
Make a pledge to donate to employees who enter themselves into fun runs and charity events
Offer employees a cycle-to-work scheme and provide secure bike storage
Subsidise gym memberships to incentivise employees to exercise regularly
Install an office shower for employees who cycle or run to work
Encourage chair breaks – suggest setting hourly timers as reminders to get up from desk chairs for a quick stretch or walk around the room
Give employees the option of having a standing desk at home or in the office
3. Offer hybrid working
Employee priorities are changing and work-life balance has become a critical aspect of their wellbeing. Many workers now expect their employer to offer more flexible ways of working to support their way of living, whether it be due to children, location, or preferred working times.
Overhauling your working structure to roll out various flexible working options such as job sharing or term-time-only working can be a tricky and time-consuming thing to do.  
A more realistic answer to work-life balance is to consider offering your team hybrid working. A recent survey found that requiring employees to split their working week between home and the office as opposed to working solely in one or other location not only resulted in 47 less unproductive days but also gave employees a higher rate of job satisfaction.
4. Support annual leave
Whether you offer unlimited annual leave or a specific number of days, it's important to encourage your employees to take time off work at regular intervals. Not only does this show your commitment to their wellbeing, but it also helps reduce time off due to stress and other factors caused by consistent work strain.
Keeping track of each individual's leave usage can help you avoid a flurry of holiday requests towards the end of the year which can put unnecessary pressure on colleagues and the business overall.
Here are 3 things you can do to help your employees book regular time off:
Set an example – encourage managers and c-suite employees to book time off and share their plans with their team
Send reminders – monthly emails outlining how much annual leave employees have remaining before the end of the year can help them plan ahead
Cut request times – allow your employees to take time off as and when they feel they need it most by setting shorter notice periods for booking leave
5. Focus on prevention
It's well known that spotting the signs of cancer early results in more successful treatment and an increased chance of survival. Other serious illnesses such as diabetes and heart disease, can also be avoided and more effectively treated as a result of preventative testing and screening.  
Research also shows that absence due to sickness costs a business an estimated £550 per employee per year.
So why is it that so many businesses base their health benefit offering only on traditional private medical insurance that's built to treat illness rather than avoid it?
At Qured, we believe that healthcare should be looked at through a different lens, with a focus on prevention being better than cure. That's why we've developed the first-of-its-kind smart healthcare benefit that's designed to keep your people healthy, instead of treating them when they're ill.
With personalised testing plans built for every individual in your team, we help you champion the health of your workforce while attracting and retaining the best talent.
Discover what Qured can do for your business
We've delivered innovative healthcare benefits to 400 leading businesses, supporting a million customers. Find out what we can do for your people.